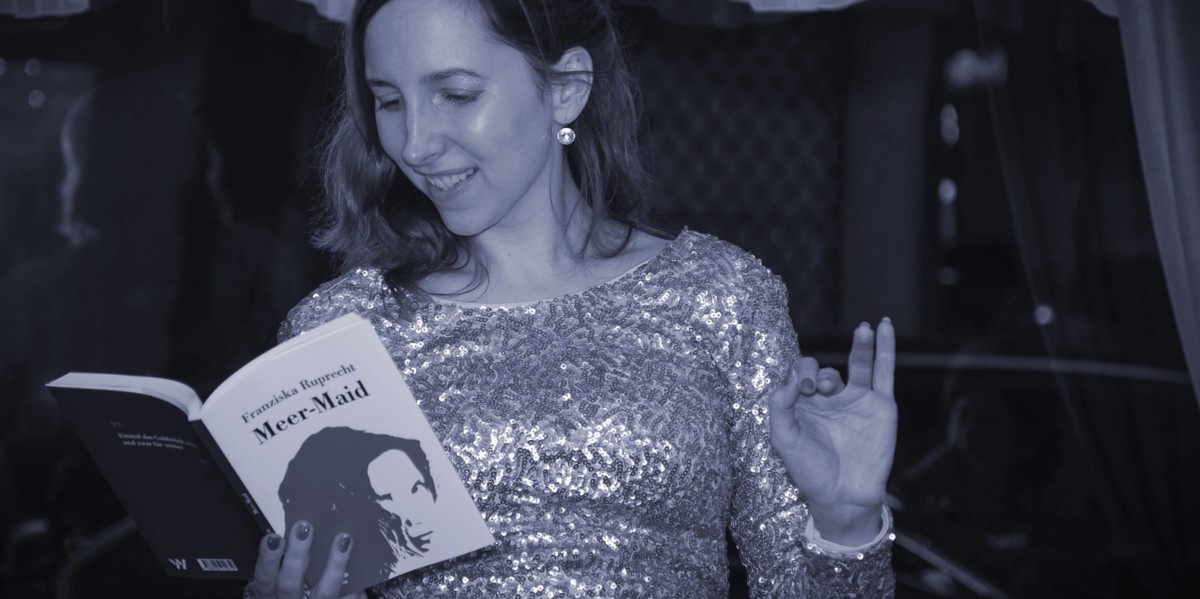 "BODY TAG" – my new book in English
poems
order it via e-mail now.
More to follow.
"Meer-Maid" – poems in German
"guilty pleasure"
My first book, a collection of poetry called
"Meer-Maid" can be ordered here. The second edition came out in spring 2016. The publisher is Wolfbach Verlag, Zürich, Switzerland. The book was first printed in January 2015. It has 140 pages, and a soft cover.
(Price includes handling and delivery. 4 Euros will be added for shipment to the USA. Thank you!)
Cover text:
"Meer-Maid" is part creature, part sensual human woman. She dives through pop elements under the superficial. There, she finds herself in fantasy realms, poetic truths, or in between. Franziska Ruprecht performs and sings her texts live. When reading, you can still feel this energy. In new ways, she describes the other – often an object of desire – and the persona of each poem. This is about the courage to feel: to long, enjoy, lose, and to become strong . . .
"Einmal das Goldstück sein
und zwar für immer."

"Once to be a treasure
and I mean forever."

Franziska Ruprecht, translation of the first lines of the poem "Piece of Gold"
Awards
The poem "Sprechgesang auf München", which has been published several times, won a prize in 2017 in a contest for short stories about Munich – being the only poem among the winning texts.
In 2015, three poems from "Meer-Maid" supported Franziska Ruprecht in winning the 22nd "Haidhauser Werkstattpreis".
"The poetry magician (…) sparkled with shimmering poems about love."

LiteraturSeiten Munich
Reviews
"The lyrical "I" in "Meer-Maid" is most of the time a seeking, romantic, tender, and feminine I. She is wedged in dresses and rituals not made for her. This is why she is dreaming herself away, to a you."

Audience member at Munich Literaturbüro
The book earned numerous critiques, reader reviews, and comments in the meantime. Most of them can be found on the German version of this webpage.