WORDS BECOME ACTION
A workshop based on my own experiences and beliefs, created to change our language, writing, and conversations to the better.
Contact me for further information or check out the description in German.
Creative Writing – Voice Coaching – Presence and Performing
Based on the model of American Creative Writing programmes (my M.A. is from the one at Wayne State University in Detroit) we will write and share texts. I offer to include inspirations, exercises, writing therapy, and text editing in this experience.
I am a trained voice-artist with a background in singing. Gently, I will coach your voice: to achieve more health, freedom, and beauty in it.
Reading out loud, reciting, performing: I can show you how to enjoy public speaking, stay authentic, and reach the audience. This is about working your assets. It is possible to film you for a more thorough feedback.
Additionally, I am a lecturer at Munich University (LMU) who can share knowledge in the field of poetry with you.
Instantly, you will notice the positive effects of the workshop: you will be inspired to create; you will interact differently; after several lessons, the awareness for your body can improve.
The workshop can be a cross-generational experience: My participants were 12-86 years old.
Contact me for dates and quotes.
The following institutions have currently requested me to work for them:
Amerikahaus Munich (teenagers, english), Freies Musikzentrum Munich (songwriters), KiM Kino (glitter entertainment at kids' birthday parties) & Junge VHS Munich (teenagers).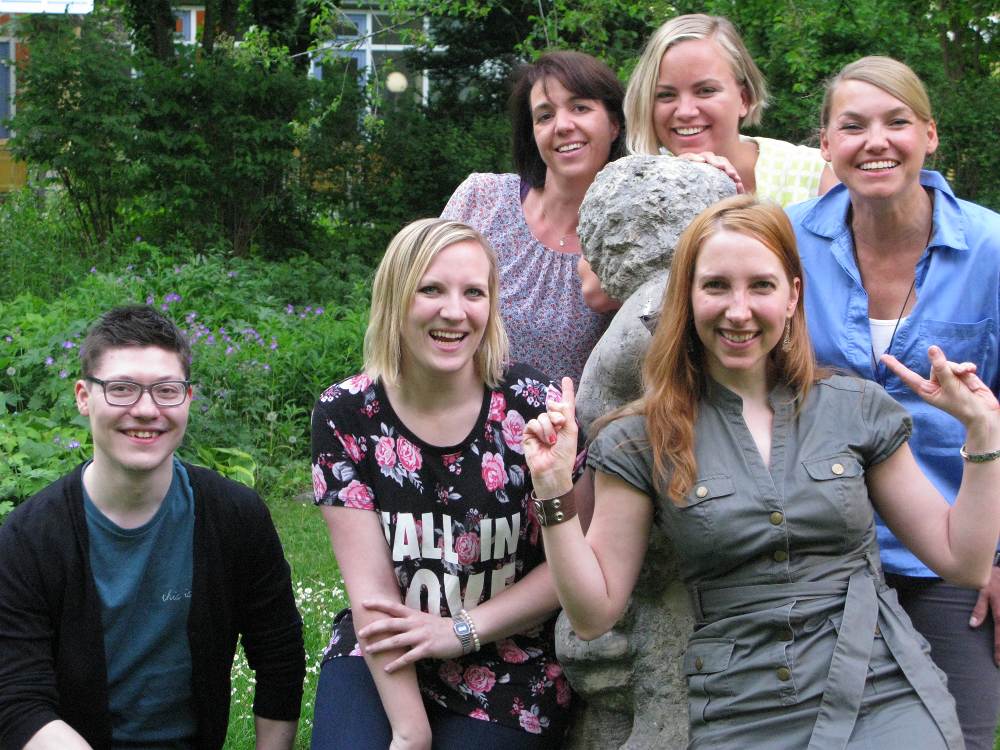 Big fun, 2015
For You
I help you prepare for special occasions such as a presentation, media interview, or a speech. Voice coaching included. I can revise your text and give your performance that decisive edge! Through my feedback, your individual strengths and your personality will blossom. Convince and impress your audience, be it with a business presentation, or during a beauty contest!
Preparing you for the media is one of my strenghts: as a video journalist, I have filmed and interviewed numerous established German authors plus people with no previous media experience. We can start in person or via Skype.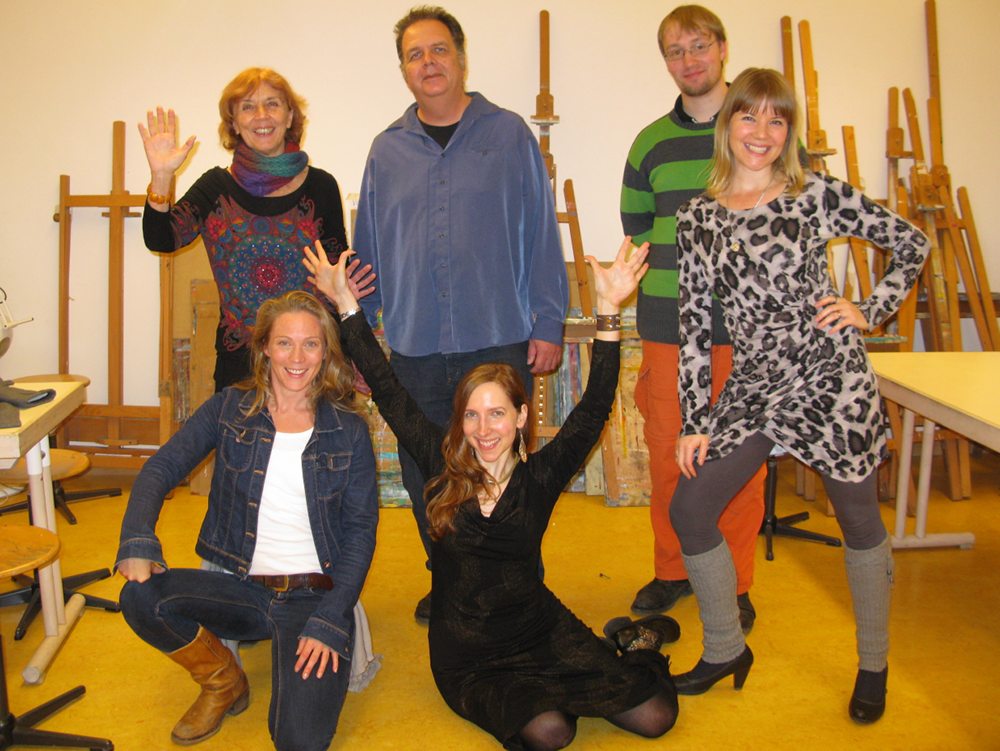 Happy workshop people, 2014
For Schools
Let's write poems! I inspire texts, and support the performance. In my workshop, we will play with words and do acting exercises. This improves oral participation, presentations, as well as processing challenging issues of life. As a visiting artist, I bring in the fun without the grades – an opportunity for pupils to show their potential freely.
Since 2018, German schools book my workshop "Raise your Own Voice" via Munich's Amerikahaus. This is an offer for teenagers that combines practising English, understanding North American performance poetry, and a writing workshop. A shorter version is "Speak Up!" my lecture for high school juniors and seniors.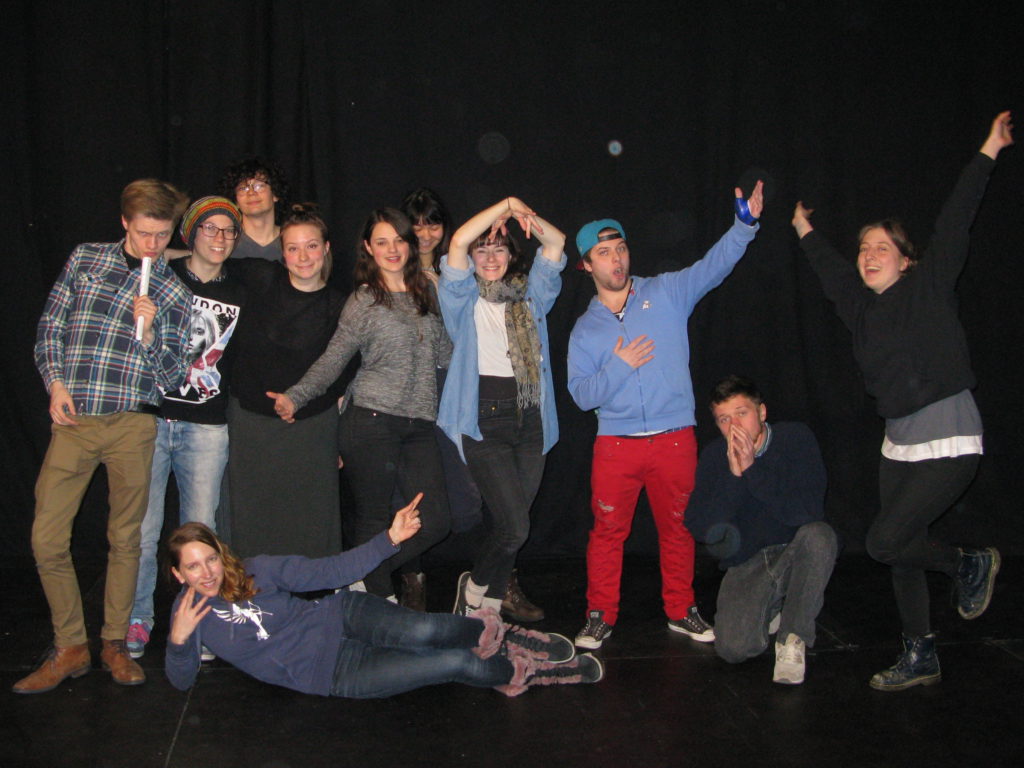 Workshop at IMAL Munich, 2016
For Companies
Poetry is good for your business. My teaching of writing, voice, and performing can improve team building, communication, and public image. It is possible to focus on charisma for leadership as well.
I worked jobs in quite a few fields and positions, hence I am a sensitive and encouraging coach delivering individual solutions for the participants. With years of stage and TV experience, I am your expert in preparing for captivating presentations. Looking forward to surprise participants with the joy of an excursion that is physically accessible to everyone.
Feedback
"A personal, relaxed atmosphere combined with good planing. It's fun, teaches you lots – a wonderful day with Franziska!"

Renate, Munich
"Two intense days that were rich in variety – I learned a lot with surprising ease. Brilliant!"

Cordula, Student, Weilheim
"The workshop day with the inspiring Franziska was intense, eclectic. I received many new incentives – presents, that I can "unwrap" at home."

Christine, Munich
"Franziska is definitely suitable as a (literary) role model!"

Markus Bacher, Office Management Assistant, Munich
"I can teach you, but I have to charge."

KELIS