Press Release for "BODY TAG", my collection of poetry in English.
A conversation on air about BODY TAG – jump to minute 18 to hear me recite in English.
Literature Radio Hörbahn Book Talk
Hear me perform live from my latest book "BODY TAG". My performance is announced and starts in English and German at minute 5. This was at Schamrock-Festival of Women Poets 2018 – International Poetry Biennal.
Literature Radio Hörbahn Schamrock Festival
For numerous additional reviews and radio interviews before the publication of BODY TALK on December 6th, 2018, please see the German version of this page.
"Franziska Ruprecht, the internationally acclaimed, award winning performance poet from Germany."

Host, CKCU FM 93,1, 06.12.2017


Feature interview, aired by the community based campus radio station of "Canada's Capital University" in Ottawa.
"Her performances combine the spoken word, underlying rhythms and musical accompaniment that infuse into her shows a sensual quality that stays with you."

Jorge Cruz, ÜRBANTgarde, "poetry that glitters", 01/13/2017
ÜRBANTgarde2017 Server challenges about to be solved.
"Franziska Ruprecht developed as a performance poet in Detroit, where she won several poetry slams while studying at Wayne State University. She's also been a frequent performer at the Munich Poetry Slam.
She says that she's influenced by "the play between languages (German and English, sometimes French, too); the experimental approach of the Language School poets, especially Carla Harryman; sophisticated hip-hop music; everything that's pop; the emotional mission of poetry; and the wonders of life.""

Ken Nash, article about a gig in Prague, 07/07/2004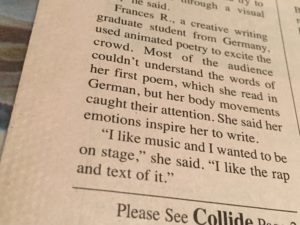 Detroit students' newspaper reporting about one of my first gigs.